Violent storms and lashing waves sculpture the uplifting shoreline and strong drifting currents make secluded beaches from the residue.
Find giant waves, dramatic skies, steep cliffs and rainforest that touch the ocean.
Great landscapes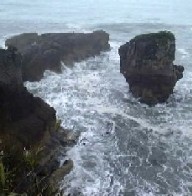 Human controls
Scenery
Broken mountains extend the coastal planes along the shore. Uplifting rocks slowly yield to the ocean creating spectacular shapes.
Activities
Interesting walking trails lead us to see the amazing natural sculptures, a seal colony and beaches littered with colourful stones and drift wood to collect. See beach combing.
Geography
Interested visitors explore the causes and processes where numerous rivers discharge vast amounts of bed-load material that constantly changes the coasts.
Massive high energy wave erosion creates bays, headlands, stacks, wave caves, wave planes, stolybedding, blow holes arches, swirl pools, estuaries, sand bars and more.

We examine the problems that changing coasts caused to settlements and harbours and we see how man made controls work to slow natures rages against human endeavour for various situations .
Gold from the rivers is sprinkled along the coasts by the waves.

Physical features still being created include- wave caves, wave plains, blow holes, arches, stacks, bays, headlands, wave caves and more.
Apart from observing, students may wish to count the wave impact rate, measure long shore drifting rate and sample drifting the beach materials.

Wave caves